ABA Therapy in Ashok Vihar
ABA therapy is a method to identify and understand the changing behaviour of the child. This therapy aims to increase behaviours that are helpful and decrease behaviours that are harmful or affect a child's life. It's not a specific therapy itself; there are so many different ranges of strategies and techniques used to treat autistic children. When ABA is used for toddlers, it's often called Early Intensive Behavioural Intervention.
Keep in mind good ABA therapy programs aren't "One size fits all." The therapist modifies the ABA therapy in Ashok Vihar plan after evaluating the behaviour of the child. He only includes the activities in the plan that matches with the needs of the child.
This therapy uses the combination of the rewards and consequences so that toddlers can learn better. Moreover, parents' involvement is very important in this therapy because research shows that children learn more effectively when their parents get involved. ABA therapy in Ashok Vihar uses positive, fun, and engaging activities to replace the inappropriate behaviour with the more helpful one.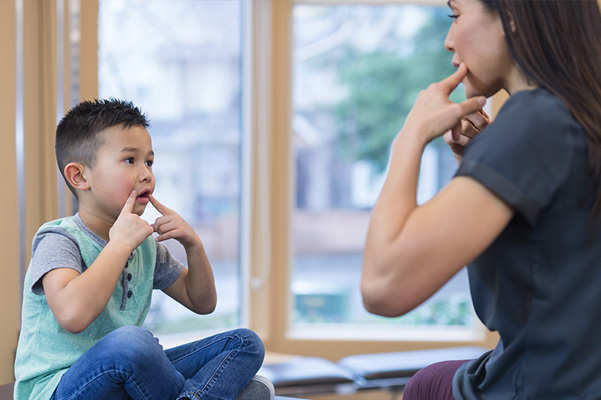 ABA Therapy Clinic in Ashok Vihar
Have you suspected the speech, language, or sensory issue with your child? If yes, then don't waste time. Get the diagnosis from the experienced ABA therapist in Ashok Vihar. Blooming Words diagnoses your child's problems in detail and helps him/her overcome complex behavioural issues. We have a team of child-friendly and qualified therapists who can easily handle your child's behavioral problems by creating a fun and effective learning environment.
Blooming Words is responsible for assisting children in a range of areas like social skills, speech, language, repetitiveness, learning, and other development skills. We offer complete involvement to the parents with their children during the sessions. Parents can watch and sit every ABA therapy in Ashok Vihar and share their concern with the therapist.
We understand your emotions and your child's desires. That's why we created the Blooming Words for you. Through the ABA therapy program, we promote positive changes and give a child the chance to live a life to the fullest. By using talk tools, music, games, drama, and learning material, we bring positive and meaningful changes in your child's life. By watching children play, our therapists are able to gain insight into what a child is uncomfortable expressing. We also ask a child to draw a picture with a stand, repeat our sentences to improve his speech disorder.
We know early intervention by a team of therapists is challenging for your child with autism. But, don't worry, Blooming word is the only ABA therapy clinic in Ashok Vihar that treats children with extra care and uses intensive treatment. By the end of the treatment, your child will learn successfully how to communicate, play interactively, and care for himself.
If you are seeking the reputed and well-known ABA therapy in Ashok Vihar, get in touch with us. Consistent use of our therapy will definitely produce the best result.
ABA Therapy Centre in Ashok Vihar
At, Blooming Words we believe and trust the power of intensive treatment, positive reinforcements, and healing. It is not easy for the parents to handle the complex behaviours of the child with autism. Having the best treatment and extensive care environment can reduce the negative behaviours of the child and improve the positive behaviours that will help him lead a life in the right direction.
Our ABA therapy in Ashok Vihar is divided into three stages- First, the therapist gives clear instruction to the child after analysing the child's behaviour. Next, the child responds by performing behaviour. And finally, the therapist demonstrates the consequences, which include positive reinforcement, if the child responds correctly, or no reinforcement, if the child has not responded correctly.
So, if you observe that your child's behaviour is making his life terrible, then without thinking much, opt for the immediate diagnosis. The early you come the better and faster results you will get. We have designed our ABA therapy centre in Ashok Vihar child-friendly and contains only positive vibes. You will be glad after knowing that, all therapy sessions are conducted 1:1 therapist to student ratio.
Frequently Asked Questions
Ans. Blooming Words is the right ABA therapy clinic in Ashok Vihar that has set the new standards for the child with autism.
Ans. We are committed to providing personalized, integrated, family-focused ABA therapy plan for the child that meets his specific requirements.
Ans. ABA therapy is the only gold standard treatment for autistic children. It is considered to be extremely effective. It may take some time, but it shows the best results.